Established in Seattle in 1985, Quorum Real Estate has a history of successfully matching people with property in King and Snohomish Counties. We strive to provide our services with a personal touch helping to establish long term relationships whether our clients are looking to buy a first home, seeking investment property, selling their home, or looking for management for their property.

Our staff includes licensed real estate agents with a combined 90 years of experience in the field.

We understand that your property is an investment in your future and we are here to help you reap the greatest benefit from your investment. With an acute understanding of the market, we apply our diverse skills and combined talent to create a solid framework from which to build, maintain and adapt a system to effectively manage and enhance the desirability of your property. Our goal is to achieve the best possible return on your investment. No property is too small or too big for us to manage.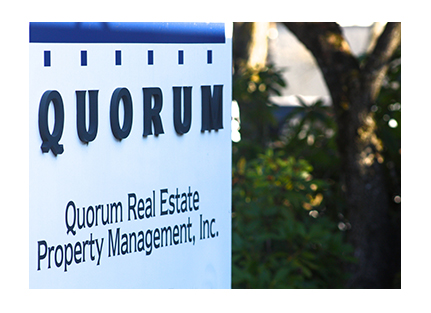 We specialize in the management of your residential properties such as single family, duplex, fourplex and larger multifamily units
We sell, lease, and manage commercial, industrial, retail, and office space
We provide monthly accounting services
We advertise for top exposure of your property
We monitor market values for the best possible return on your investment
We work with members of the community to maximize investment possibilities
We are available to you at all times
We are experts in personalized service, customized to fit your special needs
Quorum has well-established relationships with members of the community and we are an active member of the Chamber of Commerce. We are a local company and we strive to support local business.

"Our commitment is to keep your investment running smoothly and profitably with active management and clear communication."